Last Updated 04/07/98
Student Cogo
In English Please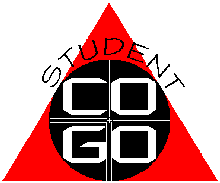 Un paquete de Topografia que satisface sus necesidades y su economia
Diseñado specificalmente para las necesidades de los estudiantes, el Student COGO es el máximo característico paquete de agrimensuras con las herramientas para manejar cualquier trabajo. No más, no menos.
Ya sea que usted esté estudiando Topografia o Ingenieria o que sea un topógrafo iniciando su propia empresa, Student COGO de RAMSS es la herramienta idónea para usted. La computadora de bolsillo HP 48 ha probado ser una herramienta popular para estudiantes de ingenieria por sus aplicaciones universales. Ofrecemos paquetes que se puede comprar para quimica, ingenieria electrica, diseño de estructuras, hidrologia, hidráulica y ahora, topografia.
Durante varios anos RAMSS ha estado produciendo para estudiantes paquetes topografos e ingenieros como HYDROmate (hidrologia). Hydratools (hidráulica) y Party Chief (topografia profesional). Ahora estamos produciendo un paquete completo y de bajo costo diseñado para el estudiante.
Nuestro concepto de diseño fue simple, el estudiante necesita resolver los problemas que se manejan con computadoras más caras y software de topografia más caro. Lo que el estudiante no necesita y no debe pagar es la capacidad de manejar grandes volúmenes de datos. Student COGO está diseñado para correr sin una tarjeta de ampliación de memoria, lo que ayuda a mantener bajos los costos; esto nos permite producir para usted un paquete de software más completo con un costo mínimo.
Student COGO le ofrece todas las funciones usadas en el trabajo cotidiano de la topografia: Inversas, poligonales, amarre y replanteo, radiales, resección, lineas paralelas, soluciones de triángulos y circulos. Además incluye:
Conversión de Azimut/Ángulos/Rumbos, en formato GMS
Encuentra punto de radio
Elevaciones remotas
Intersecciones con angulos y paralelas
Área por derrotero
Cierre y ajuste de poligonales
Replanteo tridimensional por coordenadas, número de punto o estación y desplazamiento con corte y relleno
Programa de gradientes con pendientes rectas, curvas verticales e intersecciones verticales
Administración completa de archivos con capacidad de guardar miles de puntos XYZT en varios archivos
Construya su futuro sobre bases sólidas.
Comience con un Student COGO

El Student COGO es parte de una companía creciendo de software de agrimensuras e ingeniero desarrollado por RAMSS, llame por más informacíon sobre el Student COGO o otro software de calidad.
---
Student Cogo Program List
The Student Cogo Coordinate Geometry software is the most powerful, and affordable software package on the market. The software is designed to let you perform survey computations with ease. The software comes on a plug-in card for the HP48GX or HP48SX. The following programs are included:
Circle Solutions

From any two pieces of data (Delta, Radius, Arc, Chord, Tangent) compute the remaining values.
Midordinate, external, sector area, and segment area are also computed.

Triangle Solutions

Compute solutions to Side-Angle-Side, Angle-Side-Angle, Side-Side-Angle, and Side-Side-Side.
The area is also computed.

Elevations

2 methods of setting the Instrument Elevation.
It can also use Total Station or Level and Rod data to compute elevations and cut/fills.

Cogo Programs

Traverse with Bearings/Azimuths
Traverse with Angles
Inverse with Point Numbers and/or Coordinates
Sideshots
Stake-Out Ties
Resection
Offset/Run (Compute offset and run of a point from a baseline)
Radius Point (Compute a Radius point from 3 known points)

Intersections

Line-Line with Angles & Offsets
Line-Distance with Angle & Offset
Distance-Distance

Areas

Compute areas with point numbers or coordinates
Figure may contain lines and curves
Print area summary to a serial or infrared printer
Predetermined Area by swing or slide method

Horizontal Baselines

Layout lines and curves
Generates coordinates or radial stakeout data from any station and offset.
The baseline can be linked with a vertical profile for three dimensional work.

Vertical Profiles

Lay out straight grades
Lay out vertical curves
Generate grades from a station and vertical offset.

File Manager

Directory
Create
Delete
Rename

File Access

STORE Point North, East, Elev, and Text
RECALL Point North, East, Elev, and Text
Edit cogo files with a full screen display of points

Configure

Select type of input Manual entries include: H<, Z<, Slope Distance H<, V<, Slope Distance H<, Hor. Distance, Vert. Distance.

Trig. Functions

All Trig functions can use angles in degrees or DMS format. The following functions are included: Sin, Cos, Tan, ASin, ACos, ATan, RD, DR, RP, PR, DMS+, DMS-, DMS×, DMS÷

Traverse Adjustment

A simple yet powerful compass rule program. It allows you to test angles and closure separately or simultaneously. You can edit and test the data numerous times before adjusting it into a cogo file. It can print a summary to a serial or infrared printer.

Volumes

The volume program allows you to quickly calculate and print cut/fill volumes from cross-sectional data.
The current version of Student Cogo is 1.1. If you have an earlier version see updates for information on ordering the latest version.

<!begin standard trailer page - only the copyright stuff changes>
---
RAMSS Inc.
Software De Topografia E Ingenieria
54 Winters Street
Westminster, MD 21157
800-617-7267 Sales
410-876-7267 Support
410-876-7603 Fax

Student Cogo, HYDRAtools, HYDROmate, y el logotipo de RAMSS son marcas comerciales de RAMSS Inc.
HP48SX y HP48GX son marcas comerciales de Hewlett Packard.